A clear image of the horizon is presented from the top floors, complemented by the beach and the dunes edging in on your back garden to frame a view of the sea. LEVS appreciatively used the extraordinary location for the design of the building ZuidDuin block 1, made up of 18 spacious apartments.
The large balconies and terraces along the entire length of the building offer stunning views. The wide aluminium horizontal bands with glass balustrades follow the staggering of the balconies and give the building a light and luxurious appearance. In between the bands, the aluminium façade is made up of vertical sidings of different shades of bronze.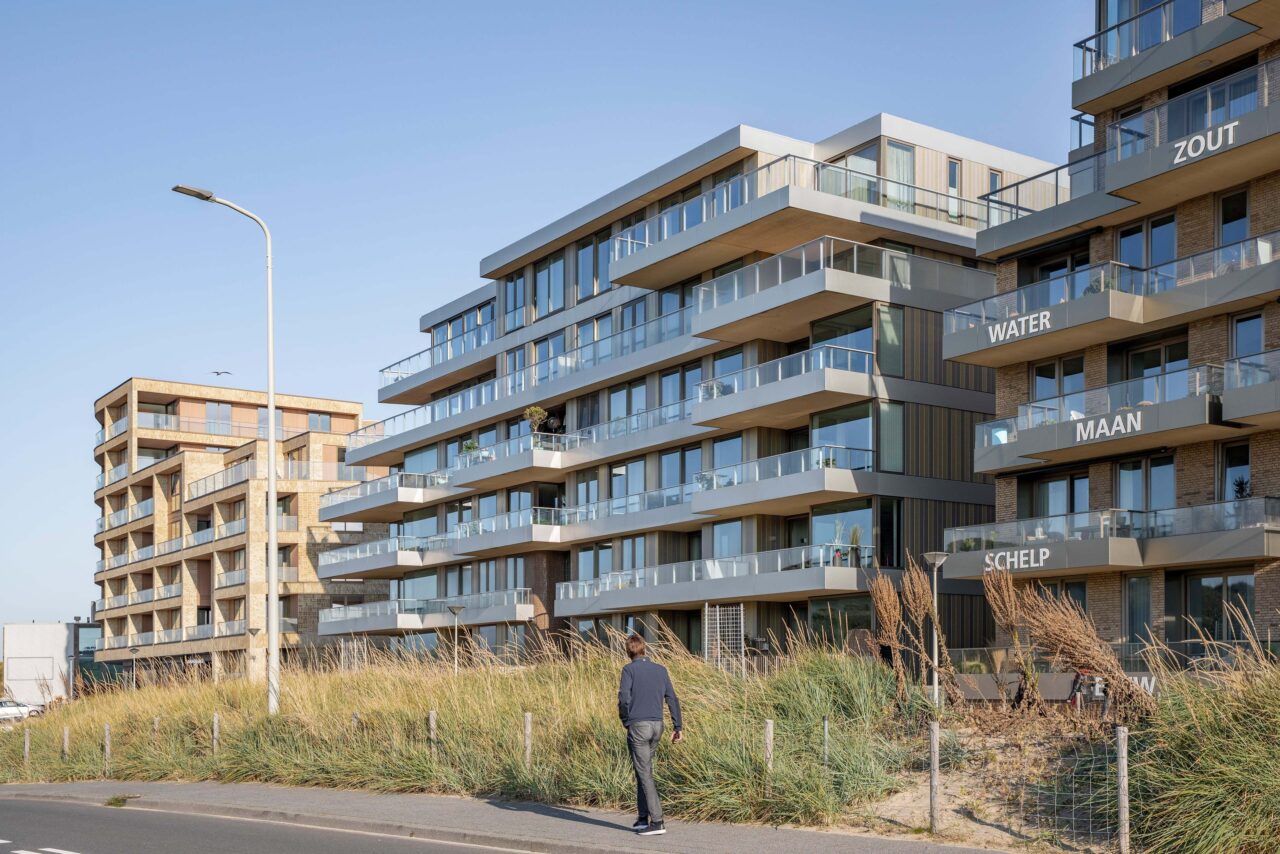 There are eight types of apartments (from 125 m²), each with a different footprint and offering various, widely differing layout options. The building stands on a raised, masonry plinth with large terraces. A wide staircase and a feature double height hall create a distinguished entrance space. Aligned to the inner space beyond, the volume with its build-up of mass makes a scale leap to shape protection for the ground-level houses.
Architectuur in samenwerking
The design of ZuidDuin is one part of the larger project De Zuid in the former Norfolk area at the harbour of Scheveningen. Six architectural offices have worked on the design of the outer façade of the different buildings, accomplishing a large architectonical variety. The joint coordination realized coherence between the buildings, as well as the preservation of their distinct characteristics.
Info
Program
85 apartments on a shared parking garage and 14 ground-level houses
Design
Adriaan Mout, Jurriaan van Stigt, Marianne Loof
Projectteam
Tibor Kis, Ingeborg van Lent, Dennis Meijerink, Bart Beentjes, Martijn Tjassens Keiser
Partners
Architectonische uitwerking: Blok 1 LEVS architecten, Blok 2 Architectenbureau Marlies Rohmer, Blok 3 ONX architecten; Binnengebied: Broos de Bruijn architecten, HOYT architecten
Photography
LEVS architecten, Your Captain Luchtfotografie