The 'Grain of Weesp', the scale and pace of the centre of Weesp – is the inspiration for this plan with five city blocks along a spine of canals and squares. The design creates a bridge between the old town of Weesp and the surrounding polder. The new public space forms an attractive route from the town centre to the polder along water and green. Scattered across the district are working-in-homes and office spaces which make the area lively and full of daytime activity.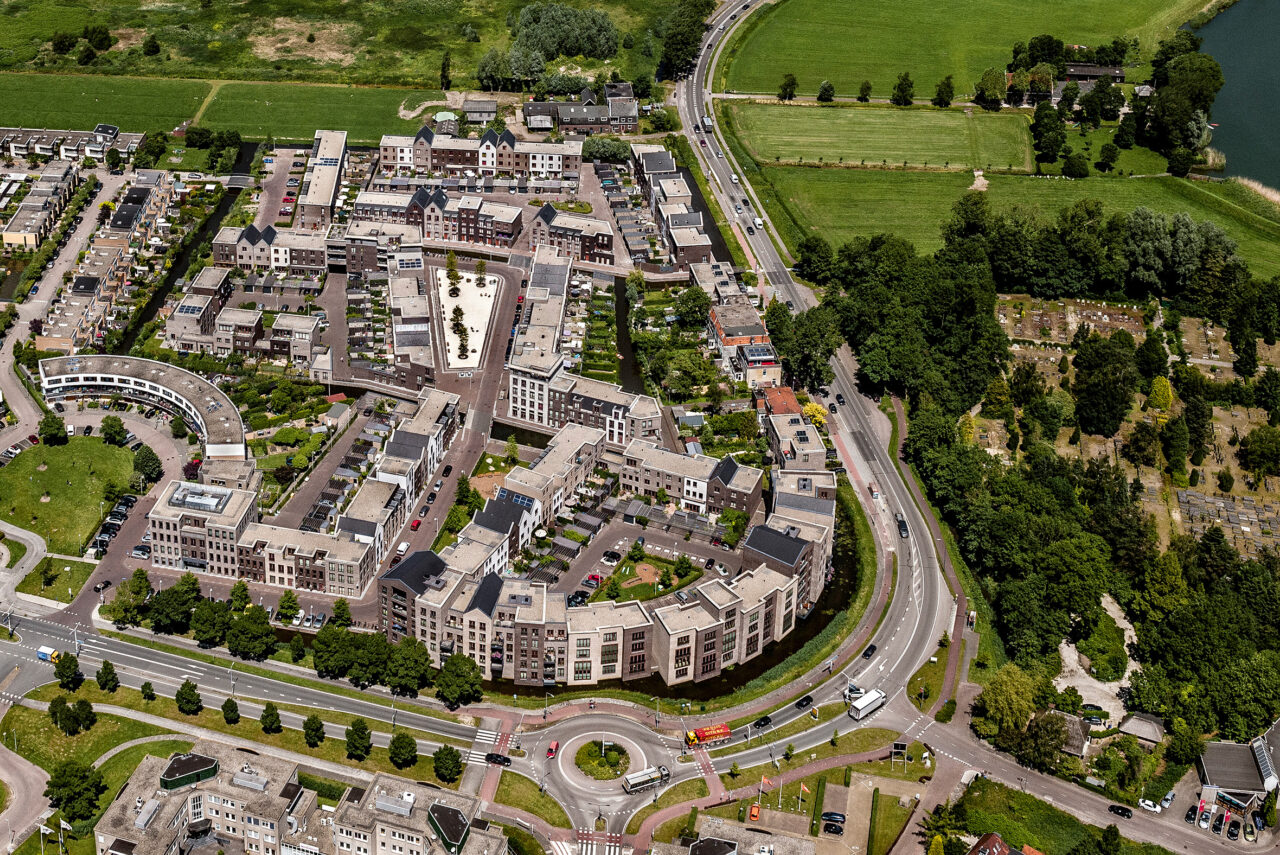 Eenheid in verscheidenheid
Just like in the town centre the density of the plan is high. Building on this historical context, LEVS designed residences with 80 different types, from apartments to working-in-homes, from canal houses with large open spaces to two-under-one-roof houses and impressive split-level homes. The variation continues in the varied and masonry materials. At the same time, the homes form one unit in e.g. wall openings and rhythm. This combination of variety and unity is a contemporary interpretation, based on a thorough analysis of the old Dutch town.
The design spends much attention to the detail: the windows lie deep in de walls and the modern design of balcony railings plays in a special way with light. Prominent corner buildings and gateways accentuate the corners and visualize the axes of the district.
"Afgelopen zondag een klein wandelingetje gemaakt door Leeuwenveld. Een heer op middelbare leeftijd was bezig een vloertje te leggen. Knikte ons vriendelijk toe. De deur was los. Het was zijn huis. Zijn plek. Stoel op de stoep. Zijn eigen stukje publieke stoep. Wees welkom. Op een andere hoek was iemand aan het verhuizen. Zoveel woningen en toch gevoel van ruimte.
Het duurde even. Waar is het blik? Waar zijn de auto's verstopt? Split level en verhoogd tuinterras. Geniaal. Slim ook die verscheidenheid in daken. Zolderkamers. Hoekramen. Hier en daar een doorzicht waar je even blijft stilstaan. Er is veel te zien. Te ontdekken. Een kromme straat, wat zou er om de hoek zijn? Dan, een woning boven een poort. Stukje natuursteen. Niet te veel. Accenten. Dakwaterafvoer tussen de huizen maakt ze los van elkaar. Knipoog naar pakhuizen. Dan weer een plein, plaats voor werken en wonen, ruimte om te kijken. Werken en wonen… Fijn. Een buurt waar mensen gaan leven. Niet alleen slapen. Knus, geborgen, en niet té retro…
Nu al de moeite waard voor een wandelingetje. Op een zondag. Bravo."

[Reind Brackman, wandelaar door Leeuwenveld]
Info
Client
Blauwhoed Eurowoningen, Leeuwenveld II bv
Program
Urban plan and architectural design 184 dwellings / apartments, 3,000 m² commercial space
Design
Adriaan Mout, Jurriaan van Stigt, Marianne Loof
Projectteam
Jasper Selten, Jannegien Luursema, Ingeborg van Lent, Christiaan Schuit, Marcia de Groot
Public space design
VLUGP
Photography
Marcel van der Burg, LEVS architecten, Luchtfoto's: John Gundlach - Flying Holland